Senior Pastor Keith Johnson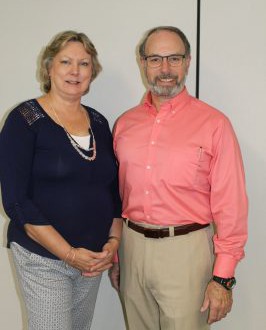 As a pastor of nearly a decade, a husband  for over 30 years and a father for 29 years, God has blessed me with this life. I have the privilege of teaching the Word of God for a living and bringing along others in this journey. And yet, as this verse in the book of Philippians says, this life is not the ultimate goal. To one day be with my Savior is gain; that is the ultimate goal. At the Chapel, we welcome
and love people from all walks of life, understanding that God's purpose for us is to love one another and follow Christ while we live so we may join Him one day in our true home and bring glory to Him.
My own journey began when I came to know Christ 25 years ago. I soon felt the call to ministry and began my studies at Dallas Theological Seminary, where I obtained my ThM (Masters in Theology). There, I became an ordained minister and have served at the Chapel for over 7 years.
I've been blessed to be supported by my wife, Patti and my children, Sean, Jackie, and Megan.
Keith attended Dallas Theological Seminary from September 2000 to May 2006, where he graduated with his Master of Theology Degree (Th.M.). During his time there, he was ordained July 7, 2003 at Firewheel Bible Fellowship Garland TX.
In 2005, Keith coauthored a Bible study for non-believers for EvanTell Inc. with oversight by Dr. R. Larry Moyer and Dr. Charles Ryrie.
In 1994, Keith received the Evangelism award known as the Matthew 4:19 Award from EvanTell, Inc.
Associate Pastor Jeff Findlay
I was born in Portland, Oregon to my loving parents, Don and LaRoyce Findlay. My father was a business man and my mother was a choral director in a local high school. I was raised in a Christian home where God was honored and we attended church every Sunday.
In church I learned about God and about the Bible, but no one ever told me that I could have a personal relationship with Jesus Christ or that I needed to. When I attended the University of Oregon I was asked to travel with the Continental Singers during the summer after my freshman year. It was during that rehearsal camp in Southern California that my life changed forever.
During that camp I witnessed first-hand other singers my age who loved the Lord. What made them stand out was that each one had a personal relationship with Jesus Christ. I could tell they had something I didn't, but I wanted it desperately. I learned more about the gospel and more about knowing Jesus. And it was there during that camp in my dorm room that I gave my life to Jesus Christ. I did not understand everything completely at that time, but I knew my life had been changed and I knew that I had eternal life in heaven to look forward to.
I came back to Oregon where I met my wife Genalee and we were married in June of 1984. I was a choral director in a large high school in the Portland area. It was during this time when the Lord began to place a burden on my heart to be in full-time ministry. It was in the fall of 1986 when we entered the full-time ministry. I was teaching at Southwest Christian School along with being a music director at Southwest Bible Church.
The Lord also blessed us with three beautiful daughters.
In the fall of 2000 The Lord called us into the pastoral ministry. I was asked to join the staff of First Evangelical Church in Memphis, TN. I was asked to be the pastor for senior adults and pastoral care along with filling in for music. Proverbs 3:5-6 became my life verses. What a blessing those verses has been to me and to my family.
Shortly after arriving in Memphis, I started attending the biblical seminary at Columbia International University in Columbia, South Carolina. I finished in 2007 with a Master of Divinity Degree in Pastoral Leadership and was ordained in August of 2007 at First Evangelical Church.  I finished my Doctorate degree in Expository preaching from Union University. and graduated with a DMin. on December 12, 2015.
On November 1, 2017 I began a new ministry as associate pastor at The Chapel of Christian Faith here in The Villages. Genalee and I are so thankful and grateful to the Lord for this wonderful opportunity to be a part of this special church.
My greatest desire in life is to please the Lord in every way and see people come to Christ and then grow in their walk with Him.